Annuity Wizard Help
The Annuity Wizard is a search tool that allows you to find the annuity that most meets your client's needs.  By setting various criteria and sorting on the desired column, you can narrow down your search to a handful of suitable products.
Search Criteria
The most important criterian to set is the state.  Once the state is chosen,  only approved products appear in the grid. Additionally, all of the product attributes shown are relevant to the selected state.  This includes all bonuses, rates, caps, fees, surrender years, and commissions.
The Data Grid

The data grid will only show the data matching the provided criteria.  If the "Client Age" criteria is set, all of the commissions shown are valid for that age only.  Additionally, if the "Client Premium" criteria is set, only the buckets that are available for that premium amount are shown.
Sorting by Column

Clicking on a column header will cause the grid to be sorted by that column's data.  After clicking, the "most desirable" values will be placed at the top and the "least desirable" at the bottom.  In the case of surrender years, shorter lengths are at the top.  For bonuses, rates and commissions, the higher the better — so the highest values get sorted near the top.
Product Compare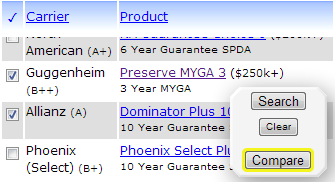 To compare two or more products side-by-side, start by checking two or more check-boxes in the leftmost column of the data grid.  Then, click the "Compare" button near the right side of the criteria.  If one or more of the checked products have premium bands, you will be prompted to enter a client premium amount for the comparison.  This is to narrow down the multitude of buckets available for each product in order to make the comparison easier.
Advanced Filter
Product Type: Index (All Buckets)

Normally each product row is only represented once in the result data.  However, if the "Product Type" criteria is set to "Index (All Buckets)" it will trigger the display of multiple rows for each product. Each row represents an index bucket.  This provides the ability to narrow down and find the best index buckets among the thousands of index buckets in the system.