Income Rider Genie Help
This utility will help you comb through the vast collection of income riders available from our many carriers.  Filter and sort to find the best income rider for your client.
Search Criteria

To get started, select your state from the drop down box.  For a more precise search, change the "Issue Age" and the "Start Age".
Data Grid

Only riders approved in the selected state will appear in the grid.  To make the grid easy to understand, all rider attributes shown are relevant for the selected state.
Expand Rows

Click the little blue plus buttons (

) to expand rider rows for more information.  The additional information shown includes a list of other products that the rider can be attached to, notes and a full withdrawal schedule based on age.
Compare Products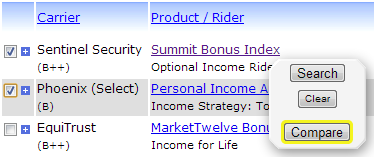 Click the check boxes next to the products you would like to compare.  Then press the compare button to view a side by side comparison of each product selected.
---
Income Rider Terminology
Income Account Value (IAV)
A separate but theoretical account value maintained along side of the traditional account value. The IAV determines the annual amount of income that can be withdrawn upon activation of the income stream.  The IAV can never be withdrawn in one lump sum.  See Withdrawal Percentage.
IAV Bonus
A one-time bonus to the Income Account Value, credited at issue.
Rollup Rate
The rate credited to the Income Account Value on an annual basis.
Withdrawal Percentage
A percentage of the Income Account Value, which is available annually, based on the owner/annuitant's age. This rate is set at the time income is started. This rate is usually based on age of the owner/annuitant at the time income begins.
Income Score
Represents an estimate of the percentage of initial premium the client will receive for their first income payment. This score provides a simple way to rank and compare the withdrawal payments of different riders.
Minimum Start Age
The minimum age at which the owner/annuitant can begin taking income from the rider. This age is set between 50 and 60 years for most riders.
Minimum Deferral
The number of years in which the owner/annuitant must wait in deferral before starting income withdrawals from the rider.
AV Cost
The annual fee charged to the Account Value as a percentage of either the Income Account Value or the Account Value.  Most riders use the IAV as the basis for the charge. In either case, the fee is always taken from the AV.